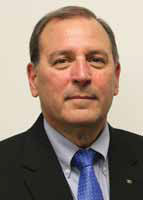 Message from our Supreme President
by Michael J. Horvath



A few days ago, we celebrated the Christmas season of 2021, and it was nice to be with family and friends this year as compared to the Christmas of 2020 where we were separated because of Covid. 2020 and 2021 have taught us some important lessons of our needs; the need for human interaction, the need to be around family and friends and the need to be a social society. It also enlightened us on how important it is to protect our family, follow those that are the experts, and especially, to do what is right. As we have seen those who unfortunately do not follow the rules not only endanger themselves but also endanger and cause more harm to others and ruin the fabric of a family and a society.

Let us hope for a better 2022 but as we see and hear we are still in danger with the new variants of Covid that continue to create a health crisis that brings us worry and the potential to change our family, society, and our way of life, and the way we will live our lives in the future. Thanks to modern medicine and the dedication of health care workers we can live an almost normal life. The lessons we learn throughout our lives is we rely on others to live our lives.

This year let us remember all those who are helping live our lives to the fullest and help those who need our help to live theirs, those that are less fortunate than us. That is what fraternalism is meant to be. However, we also cannot let those that want to manipulate others succeed since they are not thinking of others but only of themselves.

Your Society, the Slovak Catholic Sokol, is looking into its future to see how the Society can be improved so the membership has a financially sound and active Society. For this to happen we need more involvement and participation from the membership. Members have to become involved in their Assemblies, Wreaths and Groups. They need to be the catalyst to grow the Society by referring or signing up new members. The membership also needs to become more active and participate in local and national activities. Let us show others what it means to belong to the Slovak Catholic Sokol and really grow it in 2022.

I would like to wish all our members and friends a Happy New Year, Šťastný Nový Rok 2022.

Stay Safe and Healthy,
And with, God's Blessings to All!
Zdar Boh!!