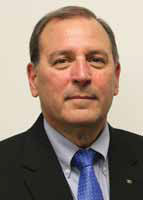 Message from our Supreme President
by Michael J. Horvath



We know sometimes it is difficult for us to say good-bye or accept change. This is human nature since we are comfortable with our status quo lives and find the unknown future unsettling. We do not have to feel the doom and gloom of change if we just follow nature's lead. Every season there is change that brings something new and beautiful. October does the same, it gives us nature's beautiful explosion of color as it prepares us for winter's wonderful rest and its activities. So let us accept change and look at its beneficial aspects and new beginning.

The 3rd quarterly Board of Directors meeting was planned to be held September 24-26, 2021, at the Mohegan Sun in Wilkes-Barre, PA but due to the increasing Covid-19 cases again our Supreme Secretary, Scott T. Pogorelec, F.I.C. and I decided to change the meeting format from inperson to virtual. Change is what is dominating our lives but as disappointing it is we look at the change as the way of protecting the Board and our professional advisors.

The planning of the 50th International Slet for July 2022 at Kutztown University is progressing as the Supreme Physical Fitness Board works with, he University to make the proper arrangements for a successful Slet. The Physical Fitness Board has informed the Supreme Secretary and me they need participation information from the Groups early so they have an idea of how many members will be attending the Slet. So, I am asking all Group Presidents to make sure the Group's Sports Director and Physical Fitness Director and Directress give the Supreme Physical Fitness Board the information they require by the deadline they set.

As change is a constant in our lives, we all must look at the good it can bring. We should take this opportunity to see what has changed in our lives and ask do we have enough of life insurance. The change we find can help us see our future. If you find you need additional life insurance for a more secure future, contact our Supreme Secretary, Scott T. Pogorelec or Director of Sales Albert. J. Suess, Jr. F.I.C. for assistance.

Stay safe and healthy!

With God's Blessings to All!
Zdar Boh!!