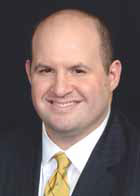 From the desk of the Supreme Secretary
MAY FLOWERS
by Scott T. Pogorelec, F.I.C.

"God is light; in him is no darkness at all."
1 John 1:5
As the month of May gets underway, I am sure that most of us would agree that it is one of the most beautiful months of the year. The weather finally starts to string together beautiful days and the colors of the different flowers are in full view. The month of May is also a time when we start putting our summer schedules together as the outdoor activities begin in full force.
Next weekend, we will celebrate two especially important days. I am speaking of course of Join Hands Day and Mother's Day on May 7th and 8th, respectively.
Join Hand Day is a National Day of Volunteering sponsored by America's fraternal benefit societies. It is a day of community service that specifically targets and develops relationships between young people and adults through neighborhood volunteering. Many communities across the world use this day as a building block to start the communication process between the young and old. With the mix of our young adults and our "wise and experienced" members, the Slovak Catholic Sokol can be a shining example of this special day. I urge our local Assembly and Wreath leaders to schedule a community service event and let the rest of our membership know about it through our Falcon. This is what we do and who we are as a fraternal.
The following day is one of the most important days of the year. That wonderful day is, of course, Mother's Day. Anna Jarvis is recognized as the Founder of Mother's Day in the United States. She developed the inspiration of celebrating Mother's Day from her own mother, Mrs. Anna Marie Reeves Jarvis, in her childhood. As an activist and social worker, the elder Mrs. Jarvis used to express her desire that we should honor all mothers and pay tribute to the contributions made by them. Following her mother's death, Anna wrote letters to people in positions of power lobbying for the official declaration of Mother's Day. The hard work paid off and on May 8, 1914, President Woodrow Wilson signed a Joint Resolution designating the second Sunday in May as Mother's Day. I would like to wish all our Sokol Mothers out there a Happy Mother's Day! And I would especially like to wish my mother, Annie, and my wife, Maggie, a Happy Mother's Day! I remind everyone, once again, that celebrating our beautiful Mothers should not only be a one-day event, but an everyday occurrence.
The month of May also brings about many wonderful celebrations such as First Holy Communions, Confirmations, and Graduations. I cannot think of a better gift to give your Child or Grandchild than a Slovak Catholic Sokol Life Insurance Policy. And with our Drive to 50 Campaign currently going on, there is no better time than now. If you have any questions regarding the Drive to 50 Campaign or our array of life and annuity products, please contact our Home Office at 800-886-7656, and we would be glad to assist you.
Finally, I would like to congratulate our Director of Sales, Albert J. Suess, on his upcoming retirement! Brother Albert was tasked in 2010 with creating an agent sales' force and I think we can all agree that the mission was accomplished as our sales grew right along with our assets. He was an integral part of our team, and even though I know he is only a phone call away, will be dearly missed by our Home Office Staff. Time to work on that golf game Pal! Cheers to a job well done and we love you!
Until next time, have a wonderful month of May, good health to all, and peace be with you!
Stay strong, stay safe, and STAY POSITIVE!
Zdar Boh!